Red Ginseng Pork Belly Festival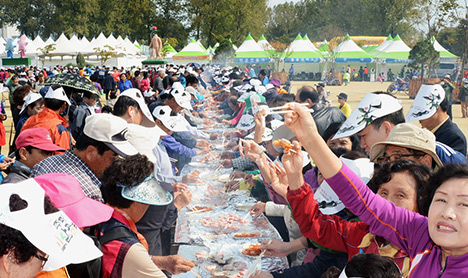 Red Ginseng Pork Belly Festival
VenueBogangcheon Sports Park in Songsan-ri, Jeungpyeong-eup, Jeungpyeong-gun, Chungcheongbuk-do
PeriodAround September ~ October every year
Events
Free samgyeopsal (pork belly) tasting, Beautiful Pig Exhibition, Livestock Love Quiz Contest, etc.
Detailed description
Premium animal feed was created using hongsambak (dried red ginseng) produced during the process of making red ginseng products in Jeungpyeong-gun, which has been home to pig farms and ginseng farms for many years, and a pig farming method was developed using the premium animal feed. The Red Ginseng Pork Belly Festival is now held every fall as a way to promote the animal feed.
At the festival, hosted by the Samirang Agricultural Association, a pig farming organization based in Jeungpyeong-gun, there is a market where visitors can purchase the local specialty products and a 200m-long grill, which is the longest grill in Korea, is used to grill "hongsam pork samgyeopsal (red ginseng pork belly)" for the visitors to try, free of charge.