Jeongpyeong Field Song Festival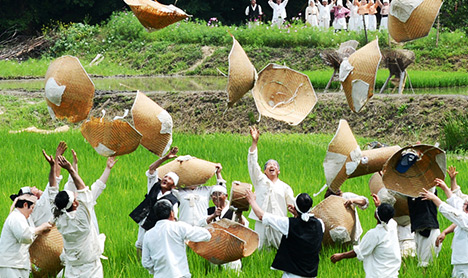 Jeungpyeong Field Song Festival
Venue91, Namha-ri, Jeungpyeong-eup, Jeungpyeong-gun, Chungcheongbuk-do
PeriodJune every year
Events
Dure-nori performance, photography contest, gugak (traditional Korean music) contest, sijo (traditional three-stanza poem) singing contest, farming experience, straw craft experience, five sense stimulation experience, freshwater snail catching experience, etc.
Detailed description
The Jeungpyeong Field Song Festival is held every June to present a wide variety of cultural and arts performances and shows including Jangtteuldeulnori, a traditional folk game that won the Excellence Prize at the Korea Folk Arts Contest, as well as the Arirang-gogae Show and the Fusion Concert of Love.
The National Photography Contest held during the festival period attracts countless photography enthusiasts with photographs of the beautiful tourist attractions of Jeungpyeong and a demonstration of Dure-nori, which is difficult to see in cities.